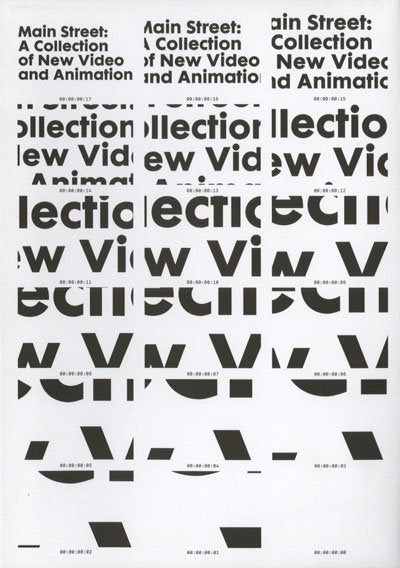 Main Street DVD
by various
Main Street is a diverse collection of new video art and animation. Curated by Family's David Jacob Kramer, and designed by Brian Roettinger. Co-published by Family and Space 15Twenty

Andrew Jeffrey Wright * Jacob Ciocci * Miranda July * Kris Moyes * Peter Sutherland * Andrew Sutherland * Lori D. * Melanie Bonajo * Lucky Dragons * Paper Rad

The videos range from the psychedelically patterned color abstractions of Andrew Jeffrey Wright and Kris Moyes, to the documentary-style mountain biking travelogue of Andrew Sutherland. Miranda July's meditation on tribal drumming, and Peter Sutherland's re-enactment of a dream where teenagers bring havoc to NYC, their minds controlled by a diabolical stone. Jacob Ciocci of Paper Rad defaces youtube videos of bedroom freak dancers with his neon animations, while Melanie Bonajo records a deadpan conversation between two women with household items tied to their every limb. Lori D.'s cartoons focus on leering men, while Lucky Dragons focus on flower gardens.