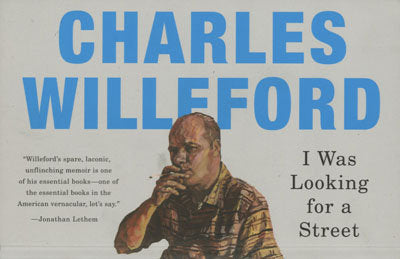 I Was Looking for a Street
by Charles Willeford
A Family / Picturebox publishing collaboration.

This memoir tells the story of the author's childhood and adolescence as an orphan, as he moves from railroad yards to hobo tent cities, to soup kitchens and deserts around Los Angeles and across the United States. Written late in Willeford's career, this book is the work of a writer at the height of his powers, looking back without nostalgia or regret, and preserving in his clear and powerful prose the great American adventure of his youth.

A former professional boxer, actor, horse trainer and radio announcer, Charles Willeford (1919-1988) is best known for his Miami-based crime novels featuring hardboiled detective Hoke Moseley, including Miami Blues and Sideswipe. His career as a writer began in the late 1940s, but it was his 1972 novel Cockfighter (later adapted for the screen by Monte Hellman) that announced his name to a wider audience. His other books include The Burnt Orange Heresy, Pick-up, and Something About a Street.